Hi, I'm Julie, the founder of Bold & Sacred and your Energy Coach & Intimacy Specialist!
I help intuitive business people who struggle with intimacy; create passionate and stable relationships, so you can find and nurture the love you crave. You deserve it.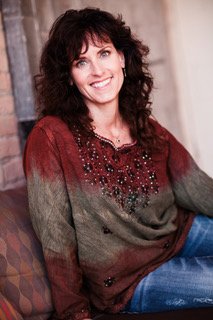 Sparks don't fade - they just need to be lit!
You know the value of hard work and you've read and watched all the self-help books, TED talks, YouTube videos and have a therapist... but, your life is not fun, full of possibility or romance! You're becoming the lonely, cynical, crabby person you swore you'd never be.
Your partner or former partners seem like "the one" until they don't tip well at restaurants and don't totally "get" your spiritual side.
So incompatable people don't even register on your radar, you meet people who are genuinely interested in your spiritual side.
You wonder where you went wrong. What do Cher, Madonna, Oprah, J-Lo, Beyoncé, Megan, Malala, Michelle, or someone else brilliant, talented, or heroic do right that you're not doing?!
So you discover, appreciate and amplify your uniqueness, in a way that is effervescent. You discover your "essence."
You're ready to forget your ex-partner. Or, at least stop kicking yourself for not running for the hills at the sign of the first, second or third red flag .
So you're truly empowered in your life and get to that "neutral" place with your exes, there's no electrical "charge" when their name comes up.
You feel like an idiot at work when the icebreaker is to say what "Hogwarts House you're from" and all you can think of is "Monica's apartment."
So you confidently make a joke about this fact, and you feel socially self-assured. You're hilarious after all.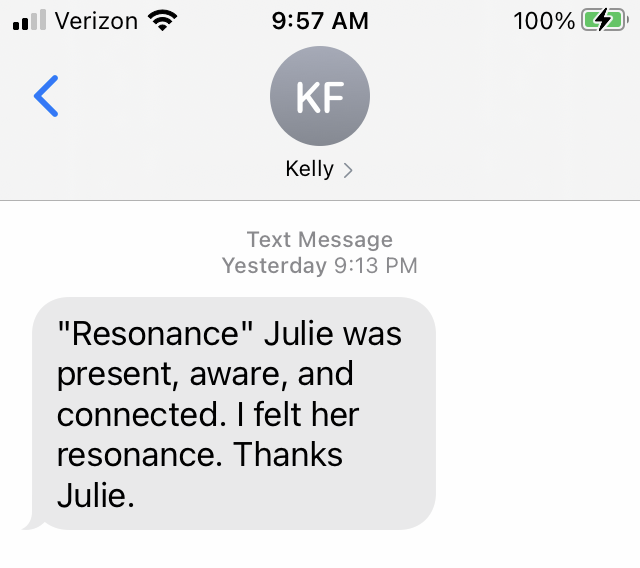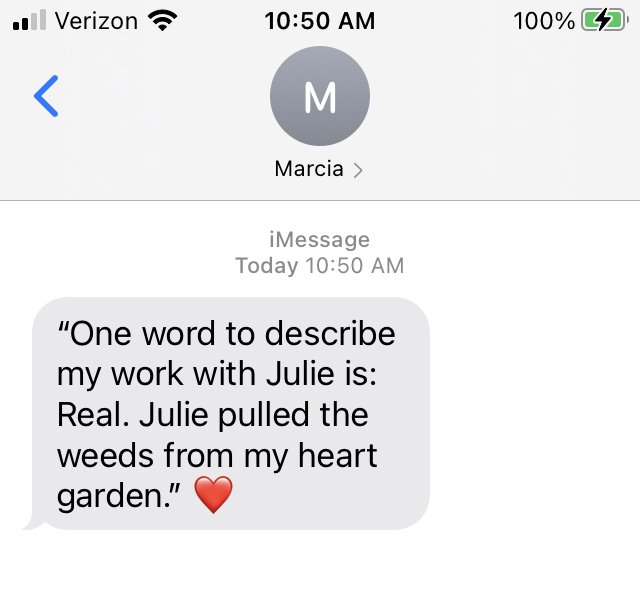 It's hard for me to pick just one word to describe my work with Julie but I think it would be "releasing." I went to see Julie after a recent difficult breakup. In the session, I felt held, seen, nurtured, and supported. The real release didn't happen in the session with Julie but a few hours later. I experienced waves of releasing grief, sadness, and anger related to my current situation. Much more healing was still needed after that on my journey to wholeness again.

That session was the start of helping my emotional energy move through me when it had been stuck inside. Julie also said something that stuck with me which was "you need to let your heart break so the healing can come rushing in." I believe the energy work, those words, and Julie's presence is what helped me to acknowledge and experience those emotions and release them, leading to healing and relief.

- Malinda
Life Doesn't Get Easier, It Gets Better
Where your focus goes, energy flows. 
Likewise, tapping into and strengthening the part of your soul that connects to others will enhance...
your creativity
career advancement
happiness at home
personal fulfillment
connection to purpose —- all sorts of things.
Aside from your life improving, I'm telling you that coaching will help you not fume when your ex comes up in conversation, move forward and attract partners worthy of you, and you'll like yourself FINALLY. I mean - imagine telling a joke and no one laughs - but it's funny to you - and you like yourself enough to relish in that, rather than feel bad. THAT is the kind of confidence I'm talking about.
What's Included in Private Coaching:
(9) fifty- minute coaching & energy facilitation sessions during the three month time period.
Email support in between sessions
Roadmap for our work together sent to you via email
Hand-picked Homework & Focus Practices that coincide with the session
Handouts & Recommended Reading
10% off ala carte sessions for one year post completion of program.
The above discovery call is complimentary. If you decide to move forward after the initial session ($197) into the 3 month program, the level of investment is $1497 paid in full.
This is Your Permission Slip to Want More
Use your time at your current job to dig your tunnel out, complete with professional references and a network of supportive colleagues who plan your going away party – get ready for trendy mocktails and kombucha!
You embody your truth, set healthy boundaries, and attract vibrant and generous people who have your back.
You set yourself up for win/win situations where chemistry, that important yet illusive aspect of intimacy, is honored. The text-dumper finds their place in the "worn-out oldies" section.
Get ready to become THE PERSON who cynical, crabby, lonely people trust and ask you for your secret to happiness.
Your job provides you with the adventure, intrigue, and freedom you long for and pays for all your things you so deserve!